Established in 1993, Dance Umbrella strives to support dance education, provide performance opportunities, and enrich cultural arts awareness and appreciation in Coos and Curry Counties. Our pre-professional company, Ballet Pacific, is audition-based and averages 8 to 15 contracted non-compensated dancers from local dance schools. DUSCO fundraises each year to provide scholarship money for dancers to attend summer intensive programs outside the local area and to bring master teachers to our area.
We annually sponsor Eugene Ballet Company's "The Nutcracker" which brings a professional ballet to our area while giving young local dancers the opportunity to perform on stage with professionals. In 2012, an additional Ballet Pacific performance was added in the form of a Gala which included guest performing companies, Eugene Youth Ballet and Portland Youth Ballet. It has since become an annual event. In 2013, DUSCO implemented our first educational outreach program, which has become a yearly offering.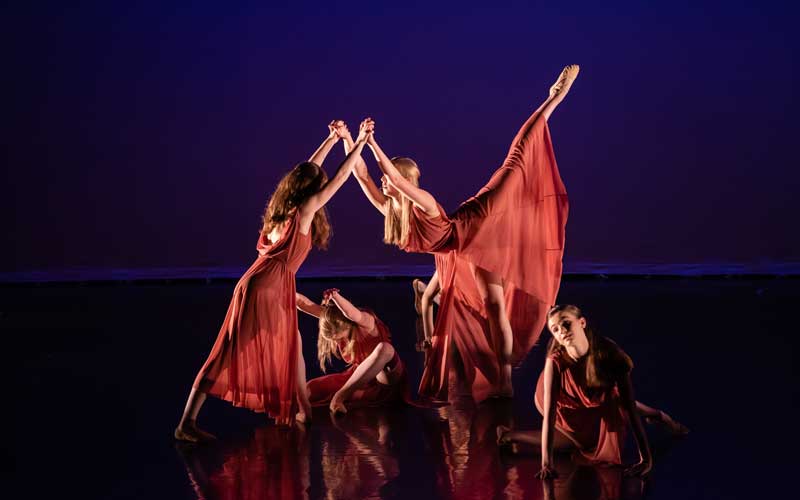 Mission
Dance Umbrella for South Coast Oregon (DUSCO) is dedicated to the art of dance. We promote dance education through workshops, scholarships, and performances. We support dance as a performing art through our pre-professional company, Ballet Pacific.
Board Members
Kim Leberti, president
Michelle Nicolaus, vice president
Alex Zenzuni, secretary
Lisa Porter, treasurer
Becki Petenbrink
Pam Chaney
Audra Geving
Elizabeth Peterson
Joyel Moore
Alison Bingham
Christine Rader, co-artistic director
Maria Alison Rosman, co-artistic director
Christine Rader, Co-Artistic Director
Christine Rader began her early training at Jacqueline's School of Ballet at age 9 and joined the Utah Youth Ballet in Linden, Utah at age 13. She then studied with Willam Christensen for 5 years at The Christensen Academy in Salt Lake City, Utah. Ms. Rader was a guest artist dancing for the Utah Opera Company performing in Die Fledermaus and Aida. Christine attended the Pacific Northwest Ballet's Summer Intensive Program for 2 consecutive years. Ms. Rader was awarded a full tuition Scholarship for the University Of Utah Department of Ballet where she received a Bachelor of Fine Arts Degree. Christine danced with Ballet West for 3 seasons 1984-1986, including special roles in Vespri, La Sylphide, Western Symphony, The Nutcracker, Sleeping Beauty, Giselle, Abdullah, and Swan Lake. While in Salt Lake City, Utah Ms. Rader was an instructor at the Ballet Centre in 1990. She continued her education of ballet at Ruth Page Center for the Performing Arts in Chicago, IL. Christine has been an instructor with Pacific School of Dance since 2006 teaching ballet technique, pointe, variations, and pas de deux. In 2010 she was named Co- Artistic Director of Ballet Pacific on the Southern Oregon Coast. She resides in Coos Bay, OR with her husband and daughter.
Maria Alison Rosman, Co-Artistic Director
Maria was raised in Coos Bay, taking ballet with various teachers who moved to town. She studied ballet and modern dance techniques with Pat Hon and Wade Manson at Cornish College of the Arts and graduated 1996 with a BFA in dance. While in Seattle, she performed with Christina Dillard's Big Red Dance Co. (95-98, 2001) and The Wylie's Bleeding Hearts Ensemble (2000-2003). Maria moved Back to Coos Bay and began teaching ballet and modern dance at Pacific School of Dance from 2007 to the present. Maria has choreographed for PSD, as well as Ballet Pacific since 2007. In the summer of 2017 & 19, she furthered her training, attending a dance teachers' workshop with The Pennsylvania Youth Ballet. In 2020 she joined Ballet Pacific as a co-artistic director with Christine Rader.
Connie Hogge, Past Director/Founder
Connie Hogge trained with Ballet Master Robert Irwin from 1960-1970. She performed principle roles in both classic and original ballets. Connie went on to study and perform ballet, modern dance, folk dance, and pre-classic dance as part of the University of Oregon Dance Department. Connie has continued training with classes and teaching seminars throughout the United States including the Zena Rommett Floor Barre Technique™ Certification 2008. Connie has been an instructor of classical ballet and pointe since 1972. She was Dance Program Director for Crossroads Creative and Performing Arts Center from 1973-1986, Program Director for Pacific Dance Spectrum 1991-1995, Program/Curriculum Director for Pacific School of Dance 1995-current. Connie has Choreographed several one act ballets and has worked as choreographer for musical theater. Connie was Artistic Director and Choreographer for Dance Umbrella Repertory Company from 1993-2009 and Co-Artistic Director of Ballet Pacific from 2009-2013.